In June 2020, the Manufacturing company "TEKO-FILTER" shipped a batch of slotted filter elements (sieves). Products are made on the basis of the frame-wire construction "TEKO-SLOT".
The slotted sieve is intended for installation in conveyor equipment of the "Hot Air" type for the production of cutlets. The equipment complex will be operated in the Penza region (Ovcharnoye Village) at one of the plants of the «Damate» Holding.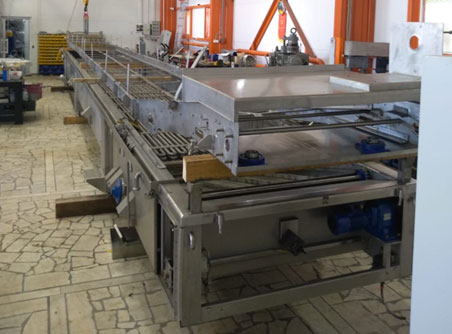 Remanufactured conveyor
Products were developed, manufactured and shipped in the shortest possible time, established by the customer. The sieve has non-standard sizes and will be used to repair the existing conveyor. It is a rectangular grating with a special frame for mounting. The width of the slit of the screen is 1 mm. Execution material - food grade stainless steel 12X18H10T.
The Group of Companies "Damate", a Russian agricultural holding, is simultaneously developing several areas: turkey production and processing, dairy farming, milk processing, mutton and duck production.